I am pleased to say that I am finally getting around to the finish work on the staircase. It's amazing how with just a coat of primer, everything can start to come together! I opted to install faux board and batten on two of the stair walls.


I was surprised at just how snazzy it is looking, especially for how cheap (less than $50!) and easy (less than 2 hours of work!) it was. I am working on a tutorial which I hope to post this week because I think I found some shortcuts that really simplify the installation process. Also, since I was working with brand new drywall, I had the idea that if I brush the drywall like I would if it was actually board and batten, it might trick the eye into thinking that it was actually wood behind the battens, rather than rolling the drywall, leaving texture to the wall. I gave it a shot, and I have to say that I think it worked!
This is just the primer coat and it only has a sheen because it was still wet. However, I plan on painting the faux board and batten with the same paint as the rises, newels, balusters, etc. so I am hoping that it will have a very convincing look to it when it's all done. It took a few hours of painting on various contorted positions, but most of the staircase has been primed. It's finally starting to look like what I had envisioned!
I am sure that I have at least 20+ hours of priming, sanding, filling, caulking and painting ahead of me, but I am already starting to think about the stain color for the treads, landing and handrail. It's a big decision because this will also be the color that we use on the floors throughout the house when we refinish them. Right now, I am torn between three very different directions: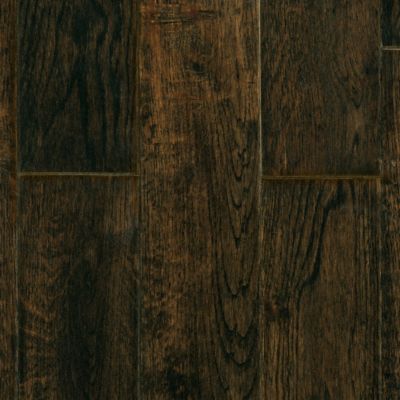 Espresso
Rich Chocolate
Weathered Oak
While I think that all three options could look great in this house, it's still a tough choice. I love the espresso color, but I am worried that it might be too dark and also that it is an out-going trend that might look dated in 5 years. The weathered oak look is definitely an emerging trend, but I think that it might lean too beachy and certainly would not be everyone's taste (which is an important consideration for resale). A medium toned, rich chocolate color is certainly classic and universal, but I think it might be kind of boring? Any thoughts or feedback would be appreciated! Of course there is no stain color that will work for any of these wood tones straight out of the can. So I bought about 7 different 4oz stain cans to mix and play around with. I am going to see if I can come up with just the right stain color. Wish me luck!
Sincerely,